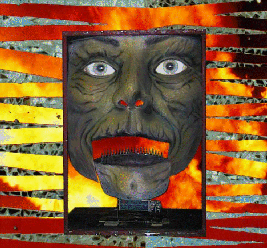 Survival Research Laboratories
Celebrates:
The
Unexpected Destruction
of
Elaborately Engineered
Artifacts
A Misguided Adventure in Risk Eradication, Happening Without
Known Cause, in Connection with Events that are Not Necessarily Related
When: 28 March, 1997

Where: Longhorn Speedway, Austin, TX

Webcast: http://www.monsterbit.com/srl




Download free RealPlayer or RealPlayer Plus
Thanks to Leo Nash for additional photos
---
28 March 1997:
---
27 March 1997:

More Images!
---
26 March 1997:

More Images from Austin:

Running Machine with the Tepee, Triangle Machine, Big Flame Blower, Big Arm in background
Walking Machine
Mark and Hand of God
V1
V1, Giant Shockwave Cannon, Subjugator
Little Arm with Carousel in background
Walker, Little Arm, Hand of God
Big Flame Blower
Running Machine

---
25 March 1997:

Images from Austin:

Bubba Crane
SRL Crew
My Pants
Trippy Pants
Puppets on Causeway
Meter Maid Cart
Tower
SRL Crew
Charles Whitman head
Shop

---
24 March 1997:

Images from Austin:

Dropcrain from Bubba
Mark Pauline and Bubba
Mark Pauline and Bubba (2)

---
15 March 1997:

Images from Austin:

Hand of God (New Machine)
SRL Crew on Site
Speedway Site
Driver

---
---
9 January 1997:

It's now official. After many months of work by countless people, SRL now has a signed contract for a show in Austin, TX on 28 March 1997 at Longhorn Speedway.

Ticket prices are $15 advance and $20 at the door. Do not contact SRL directly for any ticket sales. ALL TICKET SALES ARE HANDLED EXCLUSIVELY THROUGH FringeWare and can be ordered online through the following link:
---
Other issues:

Questions about ticket sales: Contact Fringeware

Want to sell tickets in your local area: Contact Fringeware

Want to volunteer or become involved in some capacity: Send mail to Local Austin SRL volunteer list

This show is sponsored locally by the _Austin SRL 1996 Corporation_ and other local firms.
---
11 Sept 1996:

The Austin SRL 1996 Corporation has officially formed to head up the Austin side of the upcoming Austin SRL show. Mark Pauline will also be in the Austin area this weekend to further establish various show facilities.
---
14 Aug 1996:

There has been significant progress into a show sometime in late November or early December in or around Austin, Texas. Last week Mark Pauline along with several SRL members were on site in the Austin area to finalize a site location and insure some local support. More info will be forthcoming when we feel it is necessary.
---
Most up to date and authoratative information about any upcoming SRL show will appear first on this WWW site. To avoid regulatory difficulties, we cannot answer e-mail or phone calls regarding upcoming shows until we are ready. Please check back with this site for the most recent information. We do not as of yet have any e-mail list to mail people about shows.